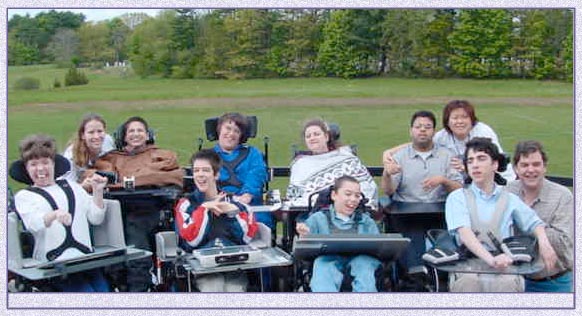 The Headbangers: (left to right) Andrea, Crystal, Joe, Mike, Holly, Colleen, Dan, Carlos, Mayumi, Nick, Jon
Hi! Welcome to the Headbangers Home Page! We're a band made up of students from Massachusetts Hospital School in Canton, Massachusetts. We play an eclectic blend of Rock, Jazz, Pop, Reggae and Classical music.
Because all of the members of the band have disabilities we don't play using traditional musical instruments. Instead, we use a variety of adaptive computer input devices as a way to control a music synthesizer. Many of us use head switches to trigger musical events (thus our name "Headbangers"), but we also use a variety of other devices as well (see the photos below). Our main software program, Super Switch Ensemble, was written by our teacher, Jon Adams.
Photos
Colleen demonstrates a single switch
Mike uses an Intellikeys to jam

Music
These songs were created by both past and present members of the band. You will need to have the free QuickTime Plug-in to listen to the music. Get it here.
All Through The Night
We play this traditional lullaby using a series of switches in much the same way that a group might use handbells.
Oshogatsu
This is Japanese folk song which we play in our head/handbell style. Finally, we get to use our synthesizer's Japanese instrument sounds!
Low Tone Blues
A blues jam featuring (digitized) vocals and an organ solo played on an Intellikeys keyboard.
I'll Be There For You
A pop-ballad with Joe on (digitized) vocals.
To A Wild Rose
A short romantic piano piece by Edward MacDowell (1861-1908). We play this in our hand/head bell style.
Porto Paulo
This is an excerpt from a bossa nova jam.
White Christmas